CNRS Chaire Junior in cryo-electron microscopy

CALL FOR APPLICATIONS

CNRS CHAIRE JUNIOR in CRYO-ELECTRON MYCROSCOPY

The CBS is offering a group leader position in cell structural biology for a specialist in cryo-electron microscopy, cryo-tomography and correlative approaches.

This recruitment is made in the context of a tenure track position program named "Chaire Junior", supported by the CNRS. The contract is for a 5 years period and comes with a starting package of 575 k€. The gross annual salary is between 54600 to 57800 €, depending on professional experience.

For more information about the scientific environment and the recruitment process, please contact the CBS director, Pierre Emmanuel Milhiet (This email address is being protected from spambots. You need JavaScript enabled to view it.). Applications should be sent to him via email including CV, list of publications, names of 3 referees and motivation letter.

PhD and PostDoc positions in molecular modeling of cellular condensates at CBS Montpellier (France)

CALL

FOR

APPLICATIONS




PhD and P

OST

D

OCTORAL

POSITION

S


AT

C

ENTER FOR

S

TRUCTURAL

B

IOLOGY

(CBS)




IN M

ONTPELLIER

,

F

RANCE

A 3-year PhD fellowship and a 2-year postdoctoral position are available in our team at the CBS Montpellier (France) starting from autumn 2022. The positions are funded by the French National research Agency (ANR) within the BioTop (PhD) and Prospero (PostDoc) projects.


Both these collaborative projects aim at combining a variety of experimental techniques in biophysics and molecular/cellular biology with theoretical modelling for characterizing the functional, structural and mechanical properties of cellular condensates. Biomolecular condensates arising from the phase separation of proteins and/or nucleic acids are presently recognized to play a key role in organizing cellular environment and they are attracting a huge and ever-increasing attention in disparate fields
ranging from soft-matter physics to physiology.

2 Years Postdoctoral Position at Centre for Structural Biology (CBS) in Montpellier, France (2)

CALL

FOR

APPLICATIONS




P

OST

D

OCTORAL

POSITION




2

YEARS

P

OSTDOCTORAL

P

OSIT

ION AT

C

ENTER FOR

S

TRUCTURAL

B

IOLOGY

(CBS)

IN




M

ONTPELLIER

,

F

RANCE




Dr.

Luca Costa




Integrative Biophysics of Membranes

(IBM)

Team

SCIENTIFIC PROJECT AND JOB DESCRIPTION:


ELF3 plant proteins have the ability to undergo phase

-

change in response to environmental signals,

such as temperature, enabling these proteins to act as developmental switches

1

.

Phase

-

change

occurs

through

d

ynamic compartmentalization into biomolecular condensates

during

the formation

of

Liquid

-

L

iquid Phase Separation (LLPS)

droplets

.

Their structure and the associated

dynamics are

usually assessed by Fluorescence Correlation Spectrosco

py (FCS), FRAP

or

SAXS

. However, they

are




still

poorly

understood

at

the

molecular

level

because

nanometer

-

resolved

images

of

the

condensates

are very challenging to obtain by

means of

conventional microscopy methods.

Our goal is to

study

the

structure and

the

associated dynamics of LLPS condensates

with

high spatial

-

temp

o

ral resolution

by

High

-

Speed Atomic Force Microscopy (HS

-

AFM)

,

FCS

and Fluorescence

Lifetime Imaging (FLIM).

With its minimal invasiveness, HS

-

AFM will be employed to catch si

ngle

proteins

diffusing

at

the

LLPS

interface

,

enabling

the

characterization

of

the

intermolecular

interaction

s

.

Results will be correlated

with

X

-

Ray (SAXS)

and

Electron Microscopy

(EM) structural




data, as well as with theoretical models and simulations performed by our collaborators

.
Internships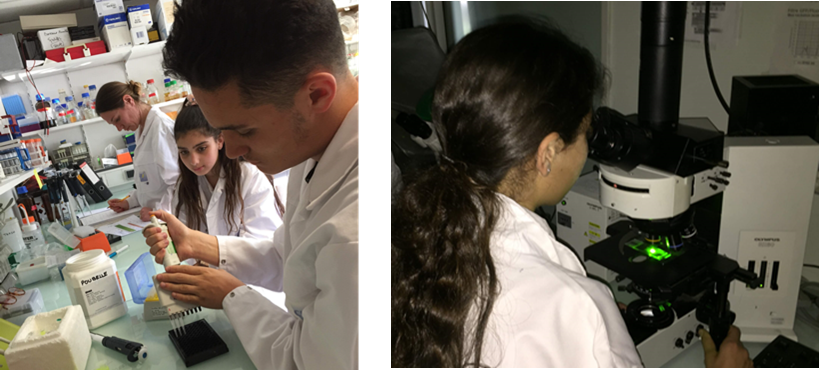 The CBS welcomes each year many interns of all levels, from high school to post-doctorate. Applications (CV and cover letter) should be sent directly to researchers from CBS teams.
PhD students are recruited through the CBS2 Doctoral School.
The PhD projects proposed by the CBS researchers can be viewed here.